The office design trend in 2022 has had some remarkable changes compared to previous years, all facets of life have been significantly impacted by the pandemic's effects, then the demand for a workspace among humans expanded. In this article, we would help you discover popular tendencies in office interior design.
Open space
Open style in office interior design is still prevalent in many large-space companies. This style would bring more ventilation, clear vision, and good connection between people to the workspace. The space users would find themselves closer to each other when it comes to minimizing the partitions and private space. Needless to say, this style is more than a bit modern, dynamic and optimal in terms of interior use.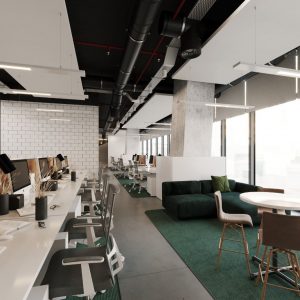 Striking colors
Prominent tones and hot and vibrant colors will be used to create a highlight. After the pandemic, people seemingly care more about internalized and spiritual matters. The ability to stimulate emotions from intense colors would inspire employees. In part, this is also influenced by the general trend in design color use.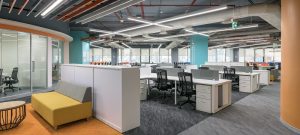 Green space
Another trend that will emerge in the establishment of workspaces by 2022 is "greening the office." Glass walls would be widely used instead of door frames or drywall, expanding the space to capture more natural light, associated with an open style, the business's workspace would harmonize with nature.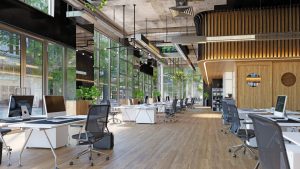 Luxury furniture
Luxury furniture will be enhanced to add elegance and style to the workspace, there is no more monotony in interior layout and workspace creation.