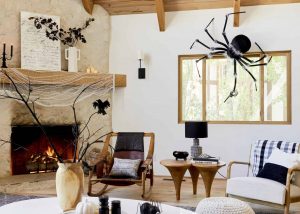 The first step in building a smart yet joyful house is establishing limits. Decide what will work for you as you define your way to exquisite Halloween décor ideas. Instead of the other way around, combining the best Halloween decorations that enhance your interior would be easy. You won't overpay for useless stuff either. Overall, having a plan makes decorating simple and pleasant.
Therefore, before starting your preparation, be aware of the dos and don'ts for Halloween house decorating ideas.
Don't be frightened to consider original ideas. You don't need skeletons hanging from your closets. The way materials, colors, and lighting create a spooky atmosphere might vary noticeably. Almost everything may seem ominous, from Medieval to Victorian styles; the more velvet the better!
Don't ignore the lighting. Dim lights, softer glow, and string lights might all have a huge impact. However, excessive brightness is not advised during the spooky season. However, a spotlight positioned just where it should be would highlight something unexpected, perhaps something potent.
Do use the color wheel to add a touch of seasonal flare to your home design. Spooky comes in a wide variety of hues, shapes, and sizes! You may also decide on your mood; gloomy, dark hues may appear cryptic yet elegant. Bright and vibrant colors are lively and exciting, while neutrals and soft hues are subtle and timeless.
Don't blend too many Halloween decoration concepts. Often, incoherence gives off a lifeless or disjointed aspect. Make a clear list of your goals, then go after them!
Don't purchase plastic that you'll just use once. Instead, choose natural materials, budget-friendly bargains, or long-lasting things.