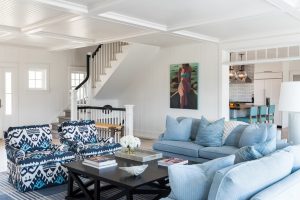 These two beach interior design trends could have many components. A coastal home and a home decorated in the Hamptons style are extremely different, though, in the finer aspects.
Flowers and plants: In a classy Hamptons home, lilies or white roses will border the yard or decorate the dining table, and manicured hedges are frequently used in the landscaping. The garden and room of a beach interior design are filled with luxuriant plants including succulents, palms, and snake plants.
Accent Colors: Coastal interior decorating highlights the vibrant and carefree characteristics of a beach resort. These homes will thus have vibrant flashes of coral, turquoise, and yellow. Dark elements, like stone and navy, elevate the stately look in the Hamptons.
Textures: The spirit of natural materials in beach interior design is captured by rough and raw. While coastal interiors value the originality of contemporary and distinctive beach home décor, Hampton's interiors favor dark, polished finishes like walnut and rosewood flooring.
Patterns: In a room with a beach theme, an accent cushion in a fashionable print could easily take the place of a scatter cushion. On the other hand, paisleys, geometrics, and brocade are more suited to the sophistication of a living space in the Hamptons.